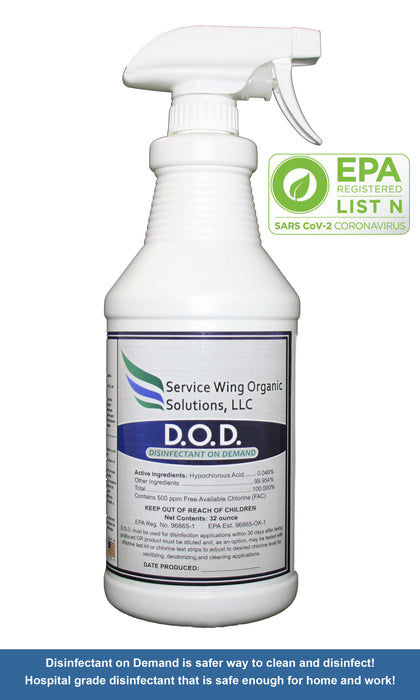 Hypochlorous Acid - Disinfectant on Demand 32 ounce
Save

Liquid error (snippets/product-badge line 32): Computation results in '-Infinity'

%
Disinfectant on Demand kills 99.9% of germs and is on the EPA's List N of disinfectants approved for use against SARS-CoV-2, the cause of COVID-19.
Disinfectant on Demand is a safer way to clean and disinfect! It is a ready-to-use formula that is powerful and safe enough for homes, schools and businesses. It easily penetrates cell walls and reacts quickly to pathogens such as viruses, bacteria, fungi, mold, mildew, and biofilm growing in the environment, including COVID-19.

The active ingredient is hypochlorous acid (HOCL), which is derived from salt, water and electricity. It is produced by a Service Wing Anolyte Generator. HOCL is one of nature's oldest and most reliable disinfectants. It is a naturally occurring chemical that is produced by our own white blood cells to fight off pathogens. This one-step disinfectant is safe to apply around people and animals, without the additional use of gloves, masks and other personal protective equipment (PPE).
Disinfectant on Demand Benefits:

EPA approved and on List N: Disinfectants for use against SARS-CoV-2 (COVID-19)
500 PPM hypochlorous acid disinfectant
Hospital grade and safe enough to use in your home
Disinfects and deodorizes by killing the bacteria and their odors
Breathe easy: No harsh fumes, harsh chemicals or alcohol
Ready-to-use formula
No rinsing required
Gentle and safe to use - No PPE required
Compatible with foggers, misters, sprayers and humidifiers
Application Rates:
Disinfectant on Demand is safe to use on all surface types. Apply with cloth, mop, sponge or sprayer. Disinfect large open areas with mister, sprayer or fogger. Allow all surface types to air dry, do no rinse. D.O.D. must be used for disinfection applications within 30 days of being produce by a Service Wing Anolyte Generator. It can be tested with chlorine test kits or test strips.
Recommended for use in the following areas:  
Public Buildings, automobiles, hotels, offices, athletic facilities, churches, stores, schools, vet premises, farms, hospitals, nursing homes, police and fire stations, emergency services, airports, correctional facilities, kitchens, restaurants, restrooms, ambulances, playgrounds, and multiple other locations.